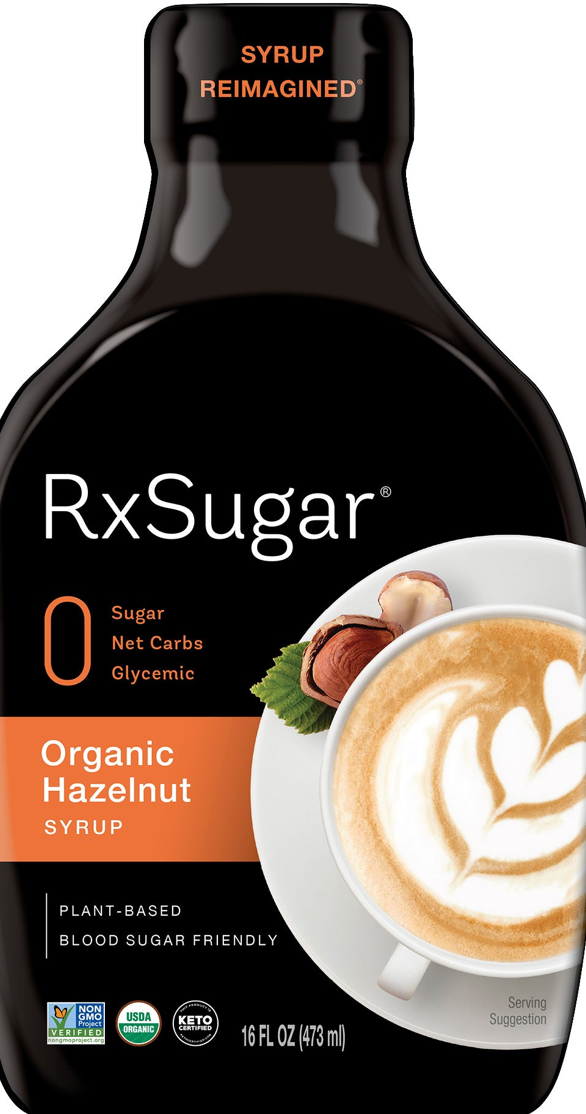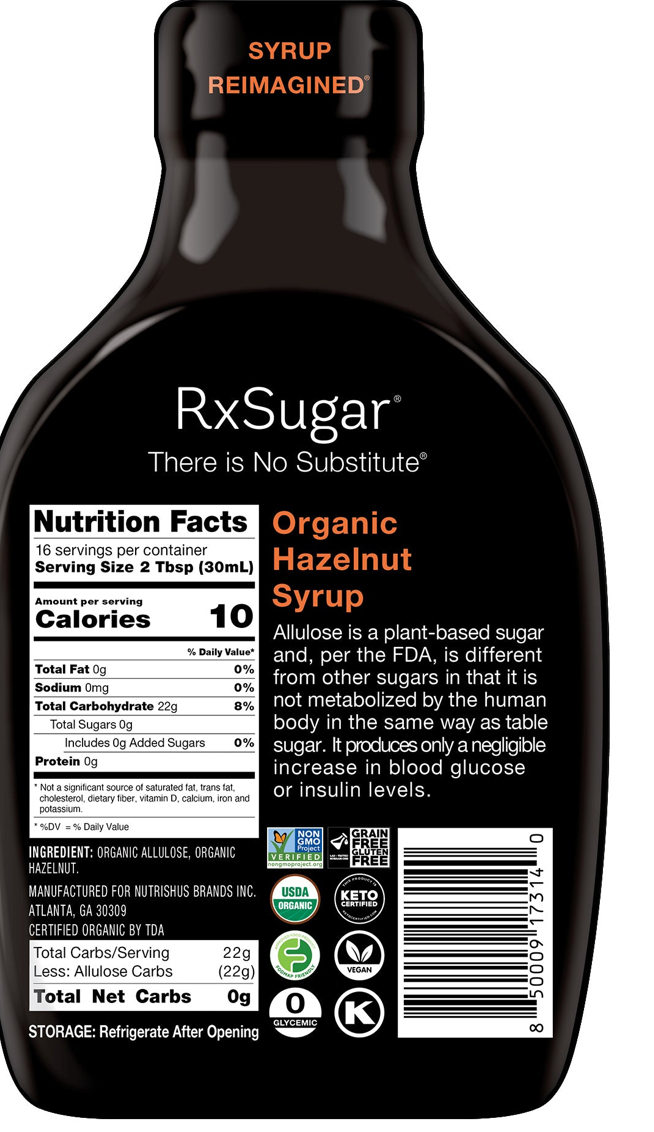 RxSugar® is The World's Best Tasting, Plant-based, Non-GMO Project Verified, Keto Certified, USDA Organic Hazelnut Syrup.
RxSugar® is Syrup Reimagined. RxSugar® is a Non-GMO Project Verified, delicious, plant-based organic hazelnut syrup with 0 sugar, 0 net carbs and 0 glycemic per serving.
NO AFTERTASTE, NO SIDE EFFECTS, JUST SWEETNESS: With no bad aftertaste and no stomachache, RxSugar® is a great-tasting replacement for cane sugar sweetened hazelnut syrups, zero calorie sweeteners, artificial sweeteners, sugar substitutes and sugar alternatives.
FUNCTIONAL SYRUP: USDA Organic Certified, Suitable for People Living with Diabetes, Keto Certified, Grain Free Gluten Free Certified, FODMAP Friendly Certified, Vegan, Kosher Certified, Paleo and Primal Friendly.
DELICIOUS HAZELNUT SYRUP: Contains 16, 2 tbsp. (30mL) servings for baking and cooking or as a hazelnut syrup for sweetening tea, coffee, shakes and smoothies, functional beverages, food, fruit, yogurt and more.
DISSOLVES QUICKLY: RxSugar® is an ideal hazelnut coffee sweetener, tea sweetener or shake sweetener, and is a great replacement for sugary hazelnut coffee sweetener syrup. RxSugar. There Is No Substitute®.
Food & Drink
Breakfast, drinks, powders, soups, spices, flavors, snacks, and protein bars.
Browse Our Selection
Nutritional Supplements
Intestinal health, metabolic support, nutritional support, sleep support, and vitamins/minerals.
Browse Our Selection